Whether you want to splurge on a fancy gin bottle for your next gin purchase or want to buy an unusual gin bottle for your drinks collection, there are hundreds of cool and unusual gin bottles on the market. From designer to pretty, there are so many cool and innovative designs from distilleries trying to stand out in the somewhat crowded market.
Take a look at this list which showcases 14 of the best gin bottles, from fancy to unusual, which will make great additions to your drinks collection.
This is one of the more unusual gin bottles available from Sharish Gin. The Mahe bottle has an unusual shape which is wide and makes reference to the town in Portugal where it is made because of its skyline featuring the Monsaraz's silhouette.
What's even more impressive with this gin is the colour. It is a deep blue colour and named magic gin because it comes from a specific flower (Clitoria Ternatea) and when mixed with tonic, it turns pink!
This is an impressive gin bottle that is cool on your shelf and when making cocktails.
Get it here.
Ableforth's Bathtub Gin is one of the most distinctive and cool gin bottles around. The actual gin bottle is wrapped in brown paper and string and wax-sealed by hand for an extra special touch. This gives the finished product an authentic finish like something from the Victorian era.
If you're looking for an unusual gin bottle, this is definitely one for your drinks collection. And with six different gins available, there is something for everyone to enjoy from sloe gin to navy strength!
Get it here.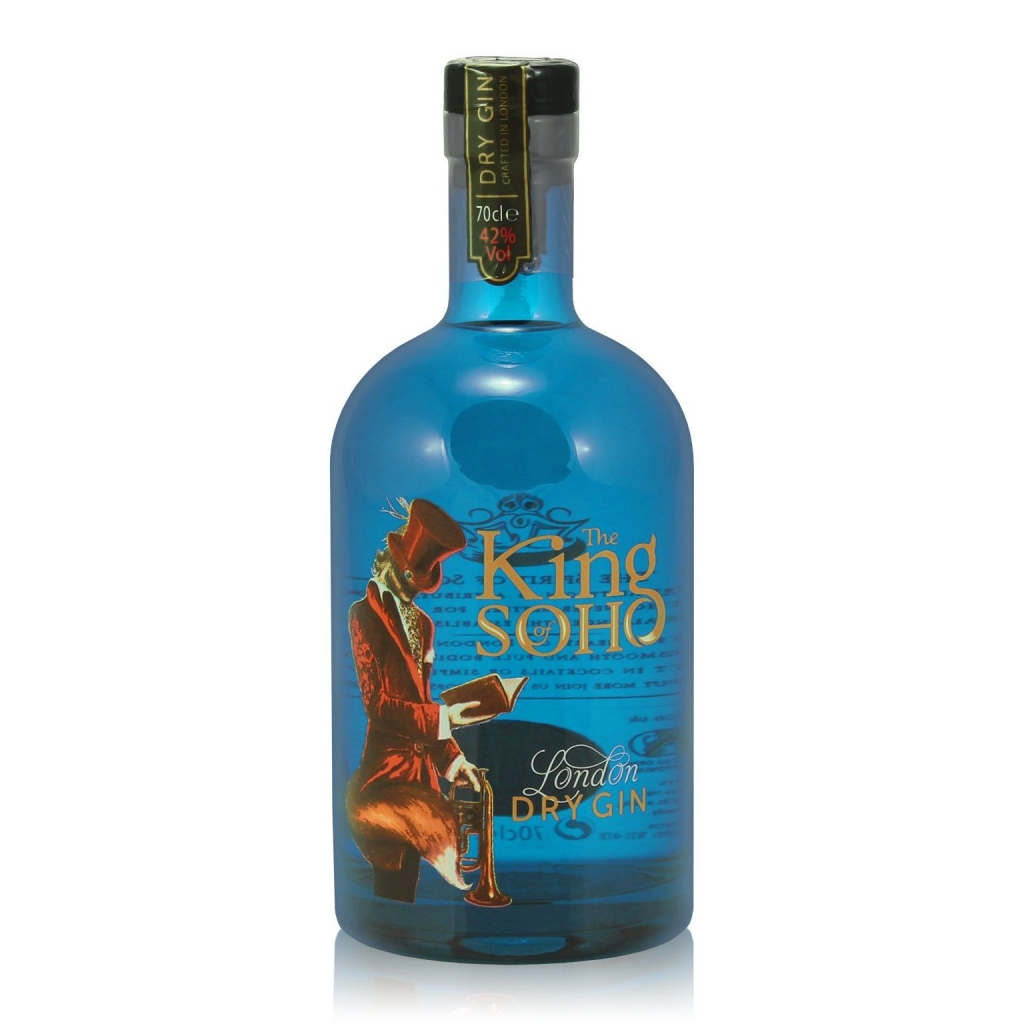 The King of Soho Gin offers this beautiful blue bottle. Soho is full of creativity, vibrancy and colour which is exactly what this cool gin bottle showcases. The simple but effective shape and vibrant colour make this a very good looking designer gin to add to your collection.
Get it here.
Perfect for the ladies, the Burleighs Pink Edition Gin is sold in a bright opaque pink bottle. This is a pretty gin bottle you can add to your collection and great to drink on a girls night. The gin captures pink flavours including cherry blossom, sweet hibiscus, cranberries, and grapefruit.
Get it here.
Gin Mare is a Mediterranean gin and the bottle looks very similar to a perfume bottle. But don't get those two confused as you can definitely drink the contents of this bottle! The small gin bottle has a sleek and fancy design, perfect for collectors.
Get it here.
The Roku Japanese Craft Gin is sold in a luxurious and beautiful gin bottle. The hexagon shaped gin bottle has engravings of six Japanese botanicals. Roku also stands for six which is reflected in the name of the gin. This is one of the more special gin bottles that lots of attention to detail on its design.
Get it here.
This bottle of gin is very unique and distinctive. The gin bottle is made from frosted glass and each  Tarquin's Handcrafted Cornish Dry Gin bottle is filled, labelled, waxed, stamped and given individual tasting notes, all by hand.
So if you want to add a handcrafted gin bottle to your collection, you can't get better than this! The distillery also has different gins including rhubarb and raspberry gin which comes in a red bottle with white wax.
Get it here.
Add some glitter to your gin collection with the Pixie Tears gin bottle. This cool gin bottle is see-through glass so you can see the shimmering and glittery emerald green gin inside. Very different to your ordinary gin bottle, simply shake this beautiful bottle and see the sparkles appear.
Get it here.
This is one of the most unusual and cool gin bottles that will look great in your collection of spirits. The Pink 47 London Dry Gin has created a unique gin bottle with a diamond shape that reflects the pink colour inside and the clarity of the gin. This unique gin bottle is also one of the fanciest gin bottles available and perfect for designer gin fans.
Get it here.
The VL92 Gin bottle is one of the more unusual gin bottles because of its old fashioned labelling with paper and string. The gin is named after a famous sailing freighter from Vlaardingen, Holland where the gin is made to this day. For anyone who looks for great labelling and detail on their gin bottle, this is definitely one of the best.
Get it here.
This is a cool and unique gin bottle because of the photo printed on the label of the bottle. As the name and photo on the label shows, the botanicals were sent into near-space (over 24km) and exposed to the air pressure for unique tastes. So you can expect this gin to make your G&T taste out of this world (literally).
Get it here.
Schwarzwald Dry Gin from Monkey 47 is a cool gin bottle which has an old pharmacy style in shape, colour and with features including the cork and ring around the cork. This authentic gin bottle is great for collectors especially those who like quality packaging and old style design.
Get it here.
Martin Millers Gin is an Icelandic gin offering great design, taste and adventure in every sip. The luxurious gin bottle features illustrations of Iceland and England which adds a beautiful and creative touch to this excellent gin.
Get it here.
This is a cool gin bottle from Alkkemist Gin. The Spanish gin has been distilled by the light of the full moon. The metallic stopper is the main feature of the bottle which will stand out well in your drinks collection. The metallic top symbolises the philosopher's stone which links to alchemy and adds a unique feature to the bottle.
Get it here.
This list is just 14 out of the many hundreds of cool gin bottles on the market. Add some of the best gin bottles to your collection including some of the unusual and fancy gin bottles from this list.
Gin fanatics don't forget to check out our list of awesome gin festivals throughout the UK!