Eat Drink Seek Blog
May 22, 2018
Oktoberfest is one of the greatest autumn events for those who enjoy great quality beers and an even greater atmosphere, however, not everyone is able to make the flight to Germany each year. Not to worry though as London has got you totally covered if you want to join in...
Continue reading
March 10, 2018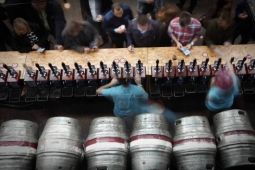 If you enjoy a beer on a night out – or whenever for that matter – then beer festivals will be a real treat. Normally accompanied by live music, food stalls, and lots of camaraderie, beer festivals are a great chance to enjoy a cold beverage and have a lot of fun. Check...
Continue reading
April 13, 2017
Are you looking for something to occupy you and the family this Easter? If you like to try different and interesting food, what about one of the many food festivals taking place across the UK? These fun and exciting events give you a chance to sample many different foods,...
Continue reading